Turn your authentic stories into your
personal brand
Attract more opportunities, customers and traffic by creating content daily on LinkedIn with the same formula I used to generate over 100 million organic impressions in 3.5 years.
Book a Discovery Call
Innovation
You're not sure how to communicate your ideas in a way that is valuable or that the LinkedIn algorithm favours.
Inspiration
You have no clue what to talk about or where to draw ideas from that will help you create content.
Interest
You don't know how to turn the engagement you get into interest and revenue for your business.
This is where I started
Two years ago, I had low engagement, no audience and no clue around how to get my ideas across. Most importantly, I did know how to generate new leads.
This is how far my content goes now
This single post was viewed over 13 million times, added over 10,000 new followers to my audience in one week and tens of thousands of dollars to our business pipeline.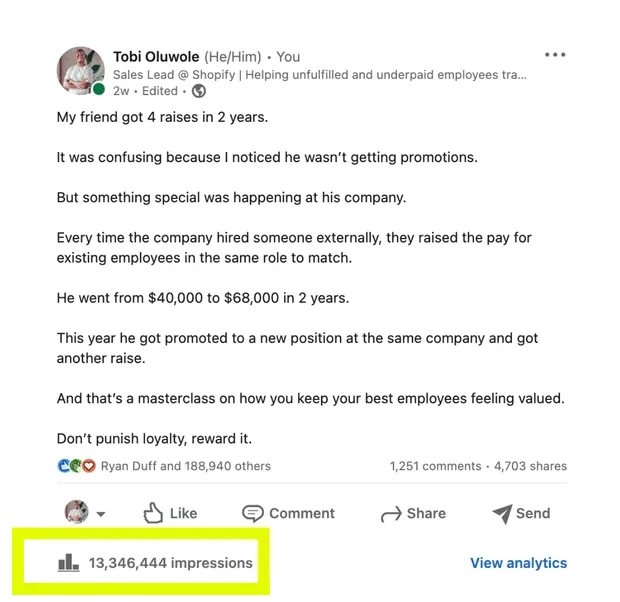 Free Marketing
It costs about $33 per 1,000 views to find your audience using LinkedIn Ads. My content acts as free marketing.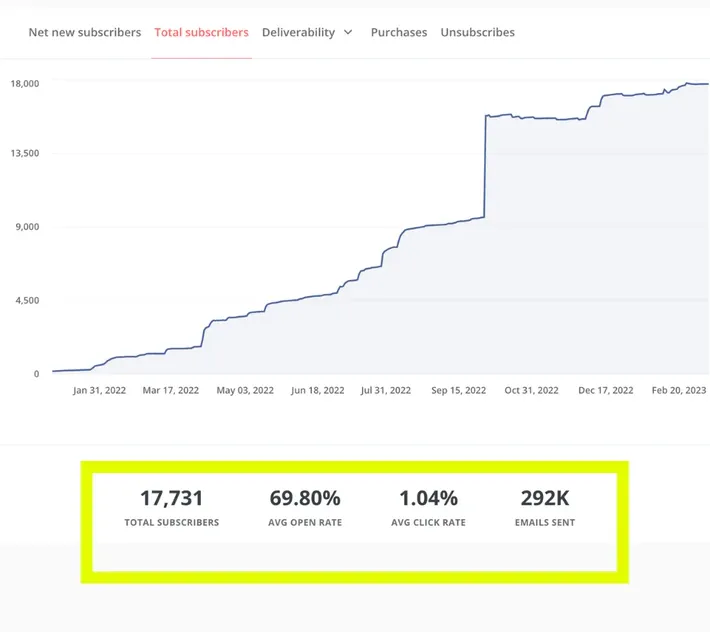 Endless Leads
Thousands of people have voluntarily signed up for my free resources with their emails and phone numbers.
New Revenue
My content attracts the people in my audience that are looking for what I offer and are willing to invest in it.
Featured in Business Insider & Global News
Over 100,000 New Followers in 9 months
$800,000+ in Revenue from LinkedIn
Hi, I'm Tobi!
My content journey started in May 2020 when I started posting daily as a way to drive traffic to my struggling business. Today, my LinkedIn content has helped secure 6-figure brand deals, equity in different startups, and paid speaking engagements - while generating hundreds of thousands of dollars for my businesses organically.
I built this program to help founders, executives and employees build an engaged audience on LinkedIn through authentic content.
Work with me
My Clients Get Results. Fast
Samantha's content reached more than 3 million impressions within 3 months and attracted 13,000+ NEW followers.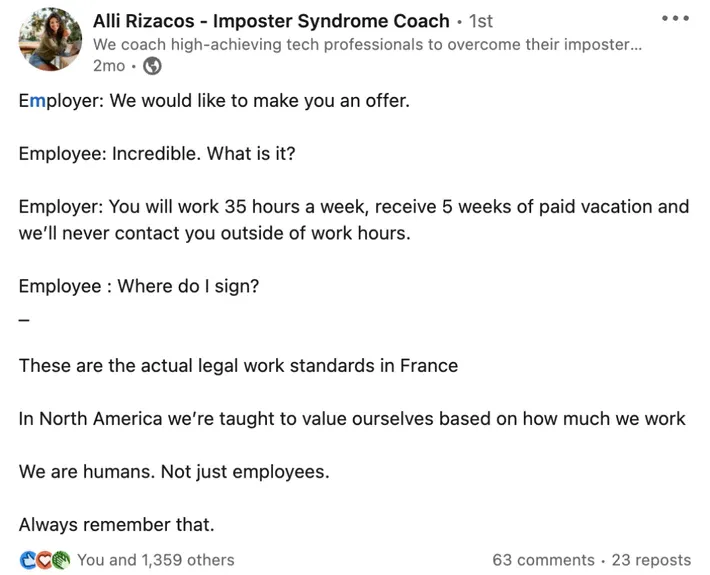 Alli generated over $140,000 for her business in the first 4 months and grew her follower count by over 65%.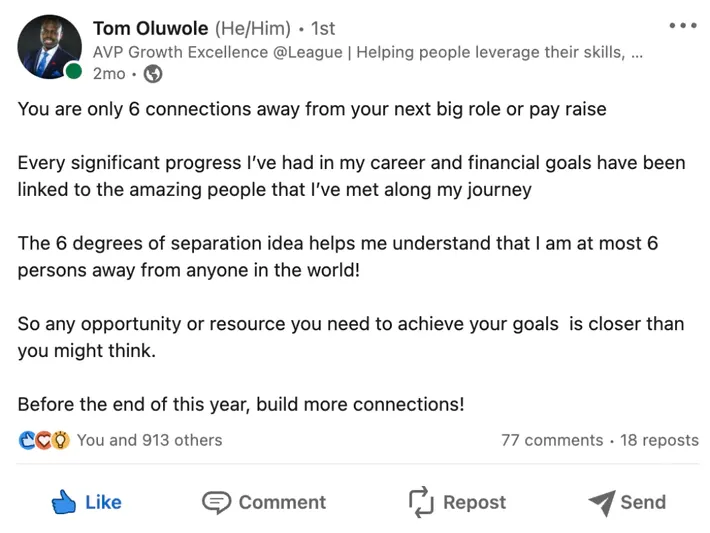 Tom grew to over 10,000 followers and used his content to drive more than 140 signups for his very first webinar.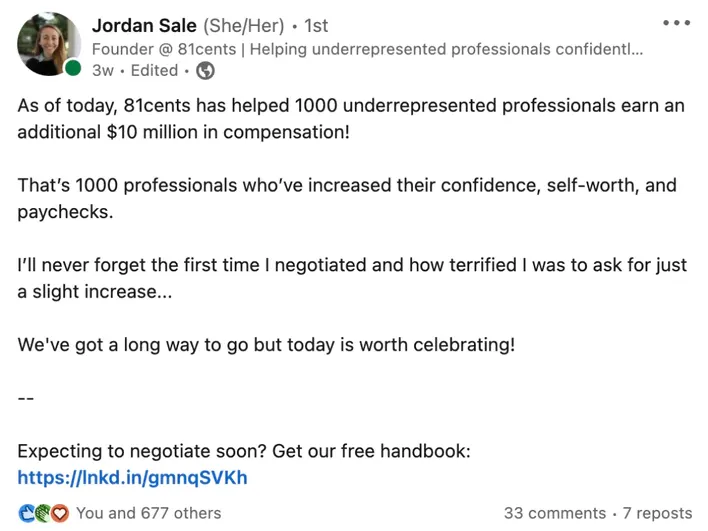 Jordan grew her followers by 32%, got 240+ signups to her webinar and landed a client directly from her content.
Molly's post got over 300,000 views her first week and she generated 5-figures worth of sales in 3 months.
McKay's content went viral twice in her first week which helped her landed 3 new clients in the first 10 days of the program.
Strategy
We will work together to develop an ideal customer profile and build a complete funnel that converts the high quality traffic from your content to consistent revenue for your business.
Content
We will work together to develop content that is authentic to you and experiment with different pieces to find what works. I will also give you access to proven templates and posting styles.
Accountability
After our first hour of strategy we will meet bi-weekly to revise your upcoming content and review the results of previous weeks. The goal is to find patterns and use data to grow.
Exposure
I will engage with your posts daily so that my audience of 160,000+ followers can see them too. This will help you attract a new audience and gain credibility quickly.
Stella built an 18,000 person waitlist
Before we started working together, Stella had an idea for her travel app but no traction at all. I worked with her to create a series of LinkedIn posts that ended up generating over 6.5 million impressions and 17,000 new followers. This led to 18,000 signups for her app waitlist, features in publications like Business Insider, Bloomberg & BBC and enough traction to begin raising money for her startup.
Gain more credibility
Your consistency will build your credibility and make you a thought leader. This will lead your audience to trust you and your offerings.
Grow your audience
There are so many revenue streams that become possible once you have an audience of your own and you understand exactly what they want.
Grow your revenue
By speaking directly to the needs and wants of your audience and then creating a solution, you can turn your fans into paying customers.
Still have questions?
Frequently Asked
Is this service right for me?
Is LinkedIn the right channel for my business?
How many hours a week will I need to commit to this?
What kind of businesses are the best fit for this program?
How quickly can I expect to see results?
What if this doesn't work?
What if I want to stop halfway through the program?
For Employees
$2,500 USD
Or as low as 24 instalments of $116
For Founders & Executives
$5,000 USD
Or 6 instalments of $820
Flexible payment plans available via